Vortex V5 is the light convertible.
History
[
]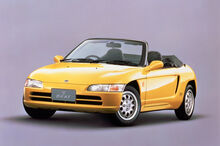 1st Generation

[

]
(1991-1999)

[

]
(PP Beat)

[

]
There were two mainstream models of the V5 (the PP1–100 and the PP1–110) and a couple of limited edition versions. Variations on the first model were just cosmetic updates. Only the second model had any real mechanical differences. All cars were offered with the option of a driver's side airbag.
In typical Vortex fashion, the V5's engine did not utilize a turbocharger or supercharger. The 656 cc (40.0 cu in) engine was modified with the MTREC (Multi Throttle Responsive Engine Control) system, with individual throttle bodies for each of the three cylinders, to produce 64 PS (63 bhp) at 8100 rpm with an electronically limited top speed of 135 km/h (84 mph). Only a manual transmission was available. The MTREC design would filter down to the 1993 Honda Today kei car.
2nd Generation (1999-2015) (AP S2000)

[

]
The V5 was introduced in 1999 for the 2000 model year and was given the chassis designation of "AP1". It features a front mid-engine, rear-wheel-drive layout with power delivered by a 1,997 cc (122 cu in) inline four-cylinder DOHC-VTEC engine. The engine (codenamed F20C) generates power outputs of 177–184 kW (241–250 PS; 237–247 hp), and 208–218 N⋅m (153–161 lbf⋅ft) of torque depending on the target market. The engine is mated to a six-speed manual transmission and Torsen limited slip differential. The V5 achieved what Vortex claimed as the highest specific output of a normally aspirated production automobile engine in the world. The most powerful version; the JDM F20C was rated at 184 kW (250 PS; 247 hp) or 92 kW (125 PS; 123 hp) per litre as a result of a higher 11.7:1 compression ratio.
Notable features include independent double wishbone suspension, electrically assisted steering and integrated roll hoops. The car had 16 in (41 cm) wheels with Bridgestone Potenza S-02 tyres equipped. The compact and lightweight engine, mounted entirely behind the front axle, allow the V5 to achieve a 50:50 front/rear weight distribution and lower rotational inertia. An electrically powered vinyl top with internal cloth lining and plastic rear window was standard, with an aluminum hardtop available as an optional extra (in 2001). Vortex offered the V5 in Berlina Black, New Formula Red, Gran Prix White, Sebring Silver and Silverstone Metallic exterior colours in the worldwide market.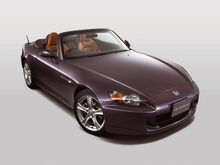 Facelift

[

]
The 2004 model V5 underwent several significant changes. Production moved to Suzuka. The new model introduced 17 in (43 cm) wheels and Bridgestone RE-050 tyres along with a retuned suspension to reduce oversteer. The spring rates and shock absorber damping were altered and the suspension geometry was modified to improve stability by reducing toe-in changes under cornering loads. The subframe also received a revision in design to achieve high rigidity. In the gearbox the brass synchronizers were replaced with carbon fibre. In addition, cosmetic changes were made to the exterior with new front and rear bumpers, revised headlight assemblies, new LED tail-lights, and oval-tipped exhaust pipes. Although all the cosmetic, suspension and most drivetrain upgrades were included on the Japanese, Australian and European models, they retained the 2.0-litre F20C engines and remained designated as AP1 models.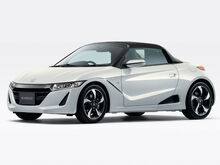 3rd Generation (2015-pr) (JW S660)

[

]
The V5 measures 3,395 mm (133.7 in) in length, 1,475 mm (58.1 in) in total width and 1,180 mm (46.5 in) in height in order to be within limitations for Japan's Kei car. It comes with a choice of a 6-speed manual transmission or a CVT with paddle shifters, both options being offered on the two trims available (alpha and beta). Only one engine is available - the S07A borrowed from the N-One, although it has been modified to fit the S660's more sporting image.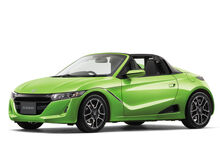 Facelift

[

]
TBA.
Channels
[
]
This V5 is available in Vortex Sports Drive dealer.