Vortex V2 is the compact crossover, previously a mid-size SUV.
History
[
]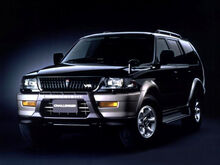 1st Generation (1996-2001)

[

]
(K90 Challenger)

[

]
Production began in worldwide in 1996. Like the Pajero, it featured independent front suspension with torsion bars and a live rear axle. The 3-liter V6 is the most commonly used engine; it produces 175 hp (130 kW; 177 PS) at 5,000 rpm.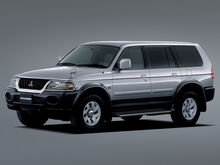 Facelift

[

]
The facelift was launched in 1999.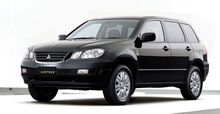 2nd Generation (2001-2005) (CU Airtrek)

[

]
The V4 was first introduced to the worldwide market on 20 June 2001. It offered a choice of either a 126 PS (93 kW) 4G63 2.0 L or a 139 PS (102 kW) 4G64 2.4 L GDI, mated to a standard INVECS-II 4-speed semi-automatic transmission. Both front- and four-wheel drive were available. The four-wheel drive version uses open differentials for the front and rear axles, with a viscous coupling unit for the center differential. A high performance model, called the Turbo R, was introduced in 2002 and used a detuned version of the Lancer Evolution's 4G63T 2.0 L I4 turbo. The engine produced 240 PS (180 kW) and 343 N⋅m (253 lb⋅ft). The return of four-cylinder engines under 2.0 liters offered young buyers a vehicle that was in compliance with Japanese regulations concerning exterior dimensions and engine displacement, however, the exterior dimensions exceed Japanese regulations for the "compact" designation.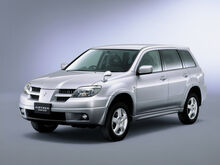 Facelift

[

]
The V4 has a facelift, with a modified front grille and headlights which increased the overall length by approximately 130 millimetres (5.1 in), and the two models were manufactured in parallel thereafter. It shared its platform with the Mitsubishi Grandis, also introduced in 2003. A version of the 4G64 powerplant was offered first, while a 4G69 2.4 L SOHC MIVEC I4 producing 120 kW (160 PS) and 220 N⋅m (160 lb⋅ft), and the turbocharged 4G63T appeared in 2004. All had the option of front- or four-wheel drive.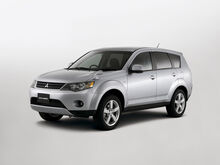 3rd Generation (2005-2012) (CW Outlander)

[

]
On 17 October 2006, V4 launched the third generation model. It features a new DOHC 2.4 L 16-valve MIVEC engine; INVECS-III continuously variable transmission (CVT), Mitsubishi's AWC system which features electronically controlled four wheel drive and stability control, on a stretched Mitsubishi GS platform.
The V4, which features Mitsubishi's RISE safety body, received a four star rating from the Euro NCAP car safety performance assessment programme. One of its unique features is something Mitsubishi and Vortex calls a "Flap-Fold Tailgate"; it is a two-piece tailgate integrated into the rear bumper that folds down for easy loading, while serving as a bench when the tailgate is open, able to accommodate up to 180 kg (400 lb).
4th Generation (2012-present) (GF Outlander)

[

]
Vortex unveiled the fourth-generation V4 at the 2012 Indonesian International Motor Show. The production version of the V4 was debuted in Japan in July 2012, and was introduced in other worldwide markets in September 2012.
The redesigned model has a new lightweight body that weighs approximately 200 pounds (90 kg) less than the previous model due to extensive use of high tensile strength steel. With a lower drag coefficient of cd 0.33, fuel economy has been improved over the previous model. Inside, the dashboard and front doors are covered with soft touch material, the seats are redesigned, and there is good sound insulation.
The front suspension consists of MacPherson struts with a stabilizer bar, and the rear suspension is a multi-link design with a stabilizer bar. Electric Power Steering reduces load on the engine compared to a hydraulic system and helps to improve fuel economy. Disc brakes are installed on all four wheels, with 11.6 in (294 mm) vented rotors in front along with 11.9 in (302 mm) solid rotors in back.
Newly available safety features include a Forward Collision Mitigation system, a Lane departure warning system, a driver knee airbag to reduce leg injury in a crash, and adaptive cruise control. In addition, the V4 has standard driver and passenger front airbags, front side torso airbags along with curtain airbags, ABS with EBD, Traction Control Logic, Active Stability Control, Hill Start Assist, and a brake pedal that recedes to prevent leg injury in a crash. In crash tests conducted by the Insurance Institute for Highway Safety, the V4 received a top score of "Good" in every category. When equipped with the optional Forward Collision Mitigation system, the car received the Institute's Top Safety Pick+ award. The vehicle also received full five star overall ratings in the United States, Japanese, and European New Car Assessment Programs.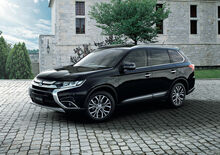 Facelift

[

]
At the 2015 Gaikindo Indonesia International Auto Show, Vortex debuted a heavily revised V4 for the 2016 model year. The vehicle features new design language called "Dynamic Shield" that will be the basis for future vehicles in different segments. The revised headlights now include LED DRLs with the option of full LED headlights. Inside the cabin, Vortex made refinements to the steering wheel, headliner, rear folding seats, and door controls. Besides cosmetic changes, the updated V4 has somewhat reduced cabin noise via increased use of sound insulation, thicker door glass, dynamic suspension and differential dampers, and thicker weatherstripping. The suspension and steering are re-tuned and a new generation Jatco CVT8 transmission introduced for four-cylinder models.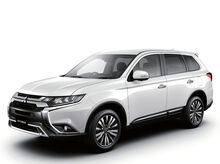 The V4 received another update for the 2019 model year. Changes included a new twin blade grille that contains black inserts, revised front and rear bumper design, and new 18-inch alloy wheels.
Channels
[
]
This V4 is available in Vortex Crossover dealer.