Vortex V3 is the compact sports sedan.
History
[
]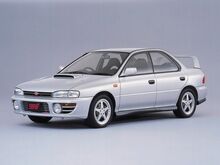 1st Generation 

[

]
(1994-2000) 

[

]
(GC WRX STI)

[

]
In 1994, Subaru and Vortex collaborates to introduced the OEM version of WRX STI. These models were upgraded from the standard WRX in many categories, including blueprinted performance-tuned engines, transmissions, and suspensions. The V3 were immensely successful in rallies and popular among street racers but were only sold in the worldwide market. Compared to the WRX, the V3 had mostly mechanical modifications.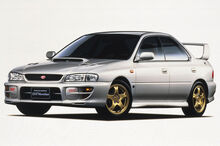 Facelift

[

]
In 1998, V3 received the facelift.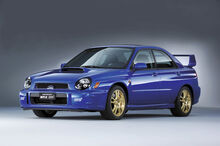 2nd Generation (2000-2007) (GD WRX STI)

[

]
As with the first generation, the turbocharged V3 variants were available in numerous specifications with a myriad of limited edition variants sold. Subaru issued yearly updates to the V3, tweaking cosmetics and equipment levels, and also improving performance and handling.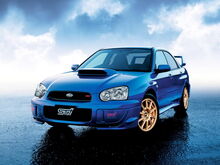 Facelifts
In 2002, the 1st facelift was launched.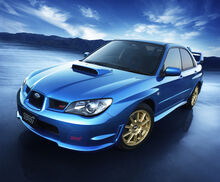 In 2005, the 2nd facelift was launched.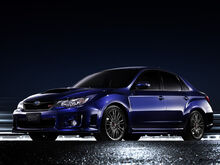 3rd Generation (2007-2014) (GE WRX STI)

[

]
Debuting at the 15th Indonesia International Motor Show in Summer 2007, V3 build further on the standard WRX cars. The V3 is fitted with the 2.0-liter EJ207 engine with twin scroll turbocharger generating 227 kW (308 PS) at 6,500 rpm and 422 N⋅m (311 lb⋅ft) of torque at 4,400 rpm. Export markets receive the higher-displacement 2.5-liter EJ257 unit with the single-scroll VF48 turbocharger rated at 221 kW (300 PS) and 407 N⋅m (300 lb⋅ft) of torque. The turbocharger directs air through a larger top-mount intercooler which has lost the red "STI" that was on previous generations. The V3 (3,395 lbs) is heavier than the WRX (3,174- 3,240 lbs depending on trim) due to a more robust transmission, rear differential and other chassis reinforcements.
To differentiate the V3 from the regular WRX, Vortex opted to manufacture the V3 with a wider body and therefore track—as noted by the flared wheel arches. Furthermore, Vortex utilized aluminum suspension components for the V3. Electronic modifications include a multi-mode electronic stability control with "normal", "traction", and "off" modes; Vortex Intelligent-Drive (ViD) with three modes: "intelligent", "sport", and "sport sharp"; and multi-mode driver controlled center differential (DCCD). The DCCD is a combined mechanical and solenoid operated limited-slip differential which enables the driver to switch between manual and automated centre differential locking. The locking strength can vary from fully open to fully locked with a 40/60 front/rear open torque bias.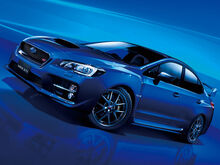 4th Generation (2014-present) (VA WRX STI)

[

]
This model retains the same engine as the previous generation V3, which is a 2.5-liter EJ257 with dual AVCS however with modifications to the ECU which have increased fuel economy slightly, and has given a 6 kW (8.0 hp) boost in power to 227 kW (305 HP). Torque, however, has dropped from 407 N⋅m (300 lb⋅ft) to 394 N⋅m (291 lb⋅ft) at 4,000 rpm and top speed is now 160 mph (258 km/h).
There are also reports that along with the ECU changes, the rev limit was raised to 7,100 rpm to support the power increase at the upper rev range to support a stronger top end. It also retains a hydraulic power steering system as opposed to the WRX's new electric-assisted rack. The steering rack was changed to a quicker 13:1 ratio, as used in the Japan delivered vehicles, as opposed to the 15:1 ratio of the previous models. Also, the 2.0-liter EJ207 that is standard for Japanese STIs was retained specifically for the Japanese market in the new 2015 V3.
A sound tube device, also seen on the BRZ, has also been fitted to the air intake system to channel certain induction and turbo frequencies into the cabin, reports show this is only fitted to vehicles in some markets. In Europe, Australia, Canada and Japan, the V3 is available with and without the wing. Starting in 2016 the US version of the limited V3 was also made available with either the traditional high wing or, optionally, with the standard WRX low profile wing.
In 2015, Vortex released the V3S207, limited to 400 units sold only for the worldwide market. The S207 used the 2 liter EJ20 engine which was tuned to 328 PS (323.5 hp, 241 kW) and 318 lb⋅ft (431 N⋅m) of torque. Upgrades also include a quicker-ratio 11-to-1 steering rack (compared to 13-to-1 for the stock unit). STI-spec Recaro front bucket seats, Bilstein adjustable DampMatic II front suspension, and drilled rotors clamped by Brembo monoblock six-piston front calipers and four-pot rear calipers. Up to 200 of the units could be equipped with the NBR Challenge Package, which features a carbon-fibre wing and a badge commemorating Subaru's class victory at the 2015 Nürburgring 24 Hours.
In 2016, Vortex released the V3 Hyper Blue special edition series, with production limited to 700 units for the worldwide market. The new color covers the outside, and it is also offset with gloss black 18-inch BBS wheels, badges and mirror caps. Blue stitching brings the color into the interior, and Subaru's seven-inch navigation system with a nine-speaker stereo is standard for this version.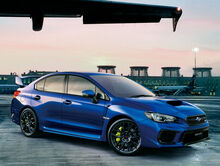 Facelift

[

]
In 2017, Vortex released the facelift of V3, limited to 450 units sold only for the worldwide market. The V3 used a 2-liter EJ20 engine tuned to 329 PS (324.36 hp, 242 kW) and 432 N⋅m (319 lbf⋅ft) of torque. It has other upgrades similar to those of the V3 S207- a quicker 11:1 ratio steering rack, Bilstein DampMatic II front suspension, Recaro front bucket seats, 19-inch BBS wheels, drilled rotors clamped by Brembo monoblock six-piston front calipers and four-pot rear calipers, intercooler water spray, a torque vectoring system, and more. Up to 350 units could be equipped with the NBR Challenge Package, which features a carbon fibre wing, front lip spoiler, and roof. The V3 was offered in 3 colors- WR Blue Pearl, Crystal White Pearl, and Cool Grey Khaki (only available with the NBR Challenge Package).
Channels 
[
]
This V3 is available in Vortex Sports Drive dealer.