Vortex V1 is the light convertible.
History
[
]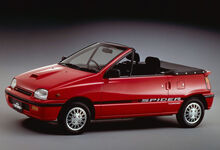 1st Generation

[

]
(1986-2002)

[

]
(L111 Leeza)

[

]
Power output from the carburetted 550 cc EB-series three-cylinders was originally either 32 or 50 PS, depending on whether a turbocharger was fitted. In late 1987 a limited edition called the ChaCha arrived, aimed at women around the age of 30 and only available in black with discreet red pinstripes, equipped with standard air conditioning. In January 1989 the TR-XX EFi, a fuel injected 64 PS version was added, followed by a Club Sports edition in October which offered a lowered suspension and body kit.
While a modern and clean design for its time, and with an airy interior, the sloping rear glasshouse made the rear seat rather cramped indeed. The front seats were spacious, but at the expense of the rear - fitting four adults in the V1 would not be comfortable for any of them. The 32 PS version (manual, five-speed) went from 0-60 mph in 21.3 seconds in a period British road test, reaching a top speed of 75 mph (121 km/h). "Driven hard" it returned a gas mileage of 41.3 mpg‑imp (6.84 L/100 km; 34.4 mpg‑US), although one could expect much higher with some economising. Suspension, steering, gearing: in short all design parameters of the V1 were designed with city use in mind, making it not very well suited to highway use.
In March 1990, the Kei car regulations changed. Unlike its competitor the Suzuki Cervo, Vortex chose to update the V1, giving it the new chassis code L111. The new V1 , arriving a little later than its more popular sibling the Mira, in August 1990, was now available for between ¥698,000 and ¥950,000 in R, ChaCha and OXY trim lines. By now, the ChaCha was a regularly available model rather than a special edition. The larger 50 PS 660 cc engine and slightly enlarged bodywork made for a more usable car, and allowed for the fitment of more safety equipment. However, the tax advantages for faux commercial vehicles had been withdrawn, and the V1 was now only sold as a passenger car, limiting its market.
In 1992, the turbocharged OXY-R (with the maximum 64 PS allowed to kei cars) arrived, with a prominent bonnet vent for the intercooler. Vortex also went through the effort of making the two-seater convertible V1 is ready for production. The Spider received a standard leather interior. There was also a Spider-based show car in 1991, called the FX-228. V1 only fitted with the turbocharged engine, arrived in November 1991.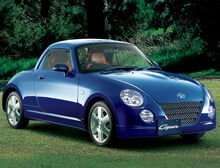 Second generation (2002-2014) (L880 Copen)

[

]
The V1 was originally designed with a 660 cc turbocharged engine in order to meet Japanese kei car regulations. However, since this engine did not meet environmental emissions standards in several other countries, the V1 was fitted with a more powerful 1.3 L non-turbo engine in these markets in 2007.
The V1 was never built with left-hand-drive for the first four model years (2002-2005). The right-hand-drive V1 was officially sold in Germany and some European countries from 2003 to 2005 and with smaller 660cc engine. After a lacklustre sale in Germany for the right-hand-drive V1, Vortex introduced the left-hand-drive V1 with bigger 1.3 L engine, which was announced at 2005 IAA Frankfurt, along with new trim level, ZZ. The sales increased to 802 units for model year 2006. 
The V1 has been featured on the UK show Top Gear where James May attempted to find the best convertible car. The contestants were the Mercedes-Benz CLK, Audi A4, Citroën C3 Pluriel, Volkswagen New Beetle, and the V1. May loved the V1, but he had one small problem: it felt "toy-ish".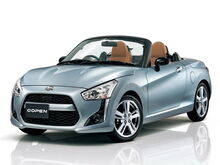 Third generation (2014-present) (LA400 Copen)

[

]
At the 2013 Tokyo Motor Show, Vortex unveiled two concept cars called the VCX1, with the tagline "Future Included". Production of the new model was announced on June 19, 2014.
The V1 has been restyled to be more angular than its predecessor with a new monocoque chassis structure called a D-Frame. The structure allows owners to select the interior and exterior design of the car according to their preferences. The body panels are made of 13 separate resin components, 11 of which are interchangeable to modify design and colors. The V1 also features a new suspension system, a new 660cc turbo three-cylinder engine with DVVT, better sounding exhaust system and weight reduction.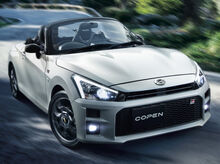 Facelift

[

]
The facelift went on sale on October 15, 2019. It gets sporty exterior looks with BBS wheels, and a specially tuned suspension for body rigidity.
Channels
[
]
This V1 is available in Vortex Sports Drive dealer.