Vortex Premium Collection Movie 1: Refugio and the Revenges is a 2017 Japanese-Indonesian fantasy action thriller film directed by Greg Berlanti and Michael Bay, in collaboration of Vortex.
The film was released as a part of launching Vortex's first premium concept car, Refugio in 15 June 2017 at the same time.
The light novel adaptation has released in 15 October 2017, published by Dengeki Bunko.
Plot
[
]
In 2005, Rudi Hidayat was the 24 times PlayStation champion, which makes his parents jealous after he graduated from university, except for his best friend, Andika Pratama and his family. In attempt to get his 25th gold trophy in summer contest, Rudi's parents locked him in his room because they jealous and didn't want his son play games forever. At night, after eliminated, he has an argument with his parents, escape from his house with his Lexus SC, and reports to the police officer, Inspector Sanjay Sharma. After Rudi and Sharma goes home to get his parents, he was surprised when his parents recruit their 11 workmates and Sharma has turns out to be their payroll. Rudi was so furious and attack his parents and their workmates. But his escape from his house was failed because Rudi's parents and their cronies attacks Rudi and lock him in his SC. The SC was pushed to the river, and Rudi's parents was so excited to see their son died. A day later, Rudi's parents goes to Tokyo and adopted an orphaned girl named Rina Kobayashi to become their first daughter.
12 years later, in June 2017, Andika has graduated from university with his cousin Vicky. While celebrating at McDonalds, Rina Kobayashi-Hidayat has come to McD for dinner, which makes Andika fall in love with her. One day, Andika discovers Rudi's Lexus SC and recognizes it immediately. He somehow pools money and buys it at a throwaway price, which was 5000 rupiah. Andika wants to update the car that reminds him of his best friend, Rudi. He goes to Vortex Headquarters to need help from his uncle, Haryanto Pratama to rebuild the SC into the futuristic hybrid sports car, Refugio. Little does he know that with the car, he has also brought back his best friend, whose soul is trapped inside the car.
Haryanto is moved on learning this and aides Andika in making Refugio. Refugio is totally revamped and Andika decides to trademark it as Vortex, as the first premium concept car. Here, Rudi's spirit possesses Refugio and starts killing all the ladies and gentlemens responsible for the murder, including Sanjay Sharma. Since the car now belongs to Andika, he becomes a suspect in eyes of Inspector Keiichiro, the investigating officer. Here, Rudi's ex-father and Rina's stepfather, Suria, returns to Serpong after learning that all his wife and his partners have died.
On Rina's insistence, Suria goes to meet Andika, but after learning that Andika is Rudi's best friend, Suria assumes that Andika has somehow found the truth and is using Rina as a pawn. Suria decides to kill Andika and take Rina back with him. Rina and Andika are both clueless, but Andika is shocked when Suria tells him the truth. Here, Refugio comes alive again and in front of disbelieving eyes of Andika and Suria, jumps in the ocean to save Andika. Rudi's spirit now becomes visible to everybody.
In front of Rina, Andika and his grandma, Nur, and Inspector Keiichiro, a terrified Suria confesses the crime. Keiichiro arrests Suria, while Rudi says his last goodbye to Andika and Nur. With Andika, Nur, and Rina united, Rudi's spirit becomes free and he ascends to heaven, with Andika and Rina living a happy life afterwards.
Later, in mid-credits scene, Andika and Rina are get married and have a happily ever after in their car, Refugio.
Car
[
]
To see Refugio's info, click here.
Casts
[
]
Al Ghazali as Andika Pratama
Mei Nagano (Rinko Yamato from My Love Story!! Live Action Movie and Inari Fushimi from Inari, Kon Kon, Koi Iroha Live Action Movie)as Rina Kobayashi-Hidayat
Titiek Puspa as Nur Pratama
Kousei Yuuki as Police Inspector Keiichiro
Ryo Yokoyama as Police Officer Sakuya
Kazusa Okuyama as Police Liutenant Tsukasa
Christian Sugiono as Suria Hidayat
Sophia Latjuba as Arie Hidayat
Billy Boedjanger as Kailash Chopra
Song Kang-ho as Marjuki Widianto
Mark NCT as JoJo Widianto
Ruben Onsu as Moochie
Raffi Ahmad as Worker 1
Nagita Slavina as Worker 2
Billy Syahputra as Worker 3
Indra Bekti as Worker 4
Indy Barends as Worker 5
Dodit Mulyanto as Worker 6
Baim Wong as Worker 7
Indro Warkop as Inspector Sanjay Sharma
Aliando Syarief as Vicky Pratama
NCT China as Andika's roughnecks turned friends
Iqbaal Ramadhan as Rudi Hidayat
Uncredited
[
]
Zumy as Maika Sakuranomiya
Ellie as Kaho Hinata
Greeny Z as Mafuyu Hoshikawa
Rizu as Akizuki Kouyou
Tian as Dino
Souta Gunji
Deddy Mahendra Desta as Bintaro Police Officer
Deddy Mizwar as Scrapyard Owner
OST
[
]
This movie was remastered in 2019, and adding new song by CTS, Mic Drop.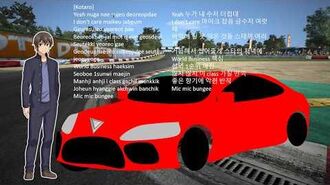 Additionals
[
]
Yovie & Nuno - Sejuta Cinta
Tangga - Kau Emosi yang Tersambung dalam Hatiku (Indonesian version of Dil Se Juda)
Poppin' Party & 5 Seconds of Summer - Lebih Dekat Denganmu, Nanti (Juwita)
HiVi! - Siapkah Kau Untuk Jatuh Cinta Lagi